ASUS ExpertCenter D7 SFF D700SC Desktop PC 16GB 512 GB SSD-90PF02W1-M00T70
AED 2,633
ASUS ExpertCenter D7 SFF D700SC Desktop PC 16GB 512 GB SSD-90PF02W1-M00T70
Master the Workplace with Flexible Performance
Supply your business with the robust functionality of the ASUS ExpertCenter D700SC Small Form Factor Desktop Computer. Designed to streamline business productivity while saving space, the ExpertCenter features enhanced performance that can be configured to meet the demands of your business. The ExpertCenter D7 is designed around an 11th gen Intel 2.6 GHz Core i7 8-core processor, this small form factor desktop sports 16GB of DDR4 RAM and integrated Intel UHD Graphics 750 for running a wide range of productivity applications while delivering smooth and accurate images.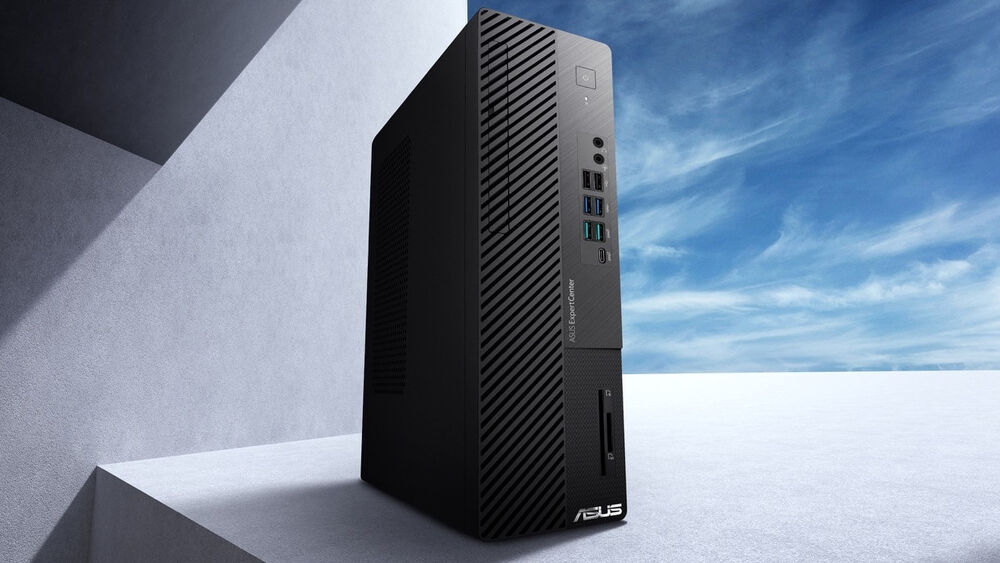 Whether you want to save space, create a tidy workspace, fit more computers into offices, or connect more business peripherals, the slim and compact ExpertCenter D7 is made for you. To ensure both consistent performance and minimum noise from a small package, ASUS has optimized D7's thermal design by creating dedicated isolated air chambers for the PC's main heat generators to prevent heat pooling and ensure quiet operation even during the highest performance.
To make light work all of your business tasks, ExpertCenter D7 is powered by a cutting-edge 11th Gen Intel Core processor with DDR4 RAM. Up to three displays can be used simultaneously without adding an extra graphics card. It also supports professional-grade graphics cards for those requiring advanced graphics performance for demanding visual tasks. Plus, take advantage of fast boot and loading speeds thanks to the 512GB M.2 NVMe SSD.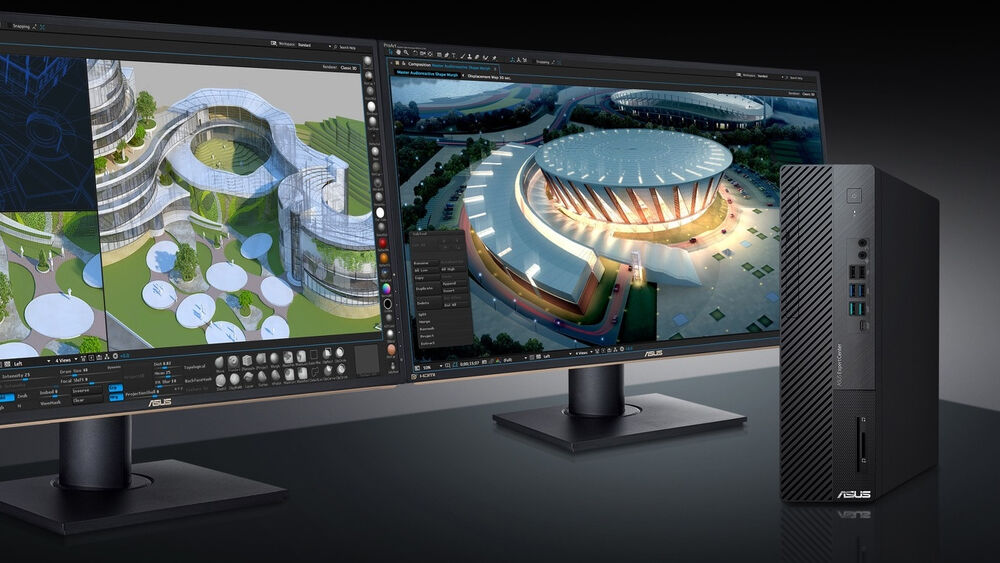 AI Noise-Canceling Audio Technology for Business
To level up professional conferencing, ExpertCenter D7 has two-way AI noise-canceling technology that employs sophisticated machine-learning techniques. The technology includes both an upstream function to filter noise around the speaker, and a downstream function to eliminate noise from the person at the other end of the conversation.
Ready for the Business World
A full array of I/O is ready to connect to a wide range of business peripherals. It has seven front-mounted USB ports, including one USB Type-C port for quick and easy access. Flexible serial and parallel ports on the chassis leave more PCI Express slots available for additional upgrades.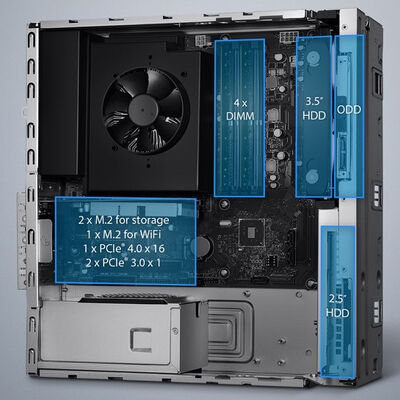 Hassle-Free Maintenance and Upgrades
ExpertCenter D7 has a tool-free chassis design so you can open it up with no tools required. The HDD and ODD can be easily pulled out with just your fingers. This saves time and effort, making component upgrades and routine servicing easy.
A clever internal layout gives maximum space for expansion in a compact form factor.
The internal steel case allows ExpertCenter D7 to accommodate up to four storage devices including two M.2 drives, and 2.5 and 3.5″ drives
An M.2 E-Key slot, PCIe 4.0 x 16 and two PCIe 3.0 x1 slots enable the easy addition of Wi-Fi modules, graphics cards, and extra I/O ports
Install up to four memory modules for boosted processing power
Less Heat, More Productivity
To ensure stable performance in the compact chassis, ExpertCenter D7 employs an innovative multi-channel cooling system. This is composed of dedicated, isolated air chambers that allow independent heat-venting channels for the PC's main thermal generators – the CPU, GPU and power supply. ExpertCenter D7 also includes the exclusive MyASUS app to optimize the operation of the CPU and system fans, automatically moderating the speeds and switching them off completely when possible, striking the perfect balance between maximum performance and minimum noise.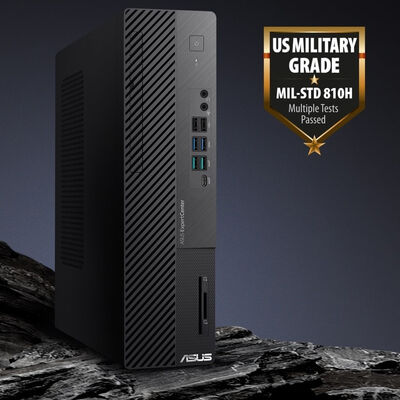 Built To Last and Safety Focused
Expert series PCs are solidly built and tested to the most demanding industry requirements, including MIL-STD-810H US military standards and stringent ASUS in-house testing. This means the inevitable minor shocks and everyday workplace accidents won't jeopardize your precious data.
But workplace accidents aren't the only hazards the ExpertCenter D7 has been designed to withstand. ASUS understands that IT security must evolve to effectively serve as the first line of defense against business disruptions. To this end, ExpertCenter desktops feature sophisticated security features such as a Trusted Platform Module (TPM), a Kensington Security Slot and Padlock Slot, and USB port read and write control to keep your business and its future safe.
ASUS Control Center is a centralized IT management suite that's capable of remote management, hardware and software monitoring, and task scheduling via a user-friendly web-based interface, allowing system administrators to conveniently manage company assets through a single portal.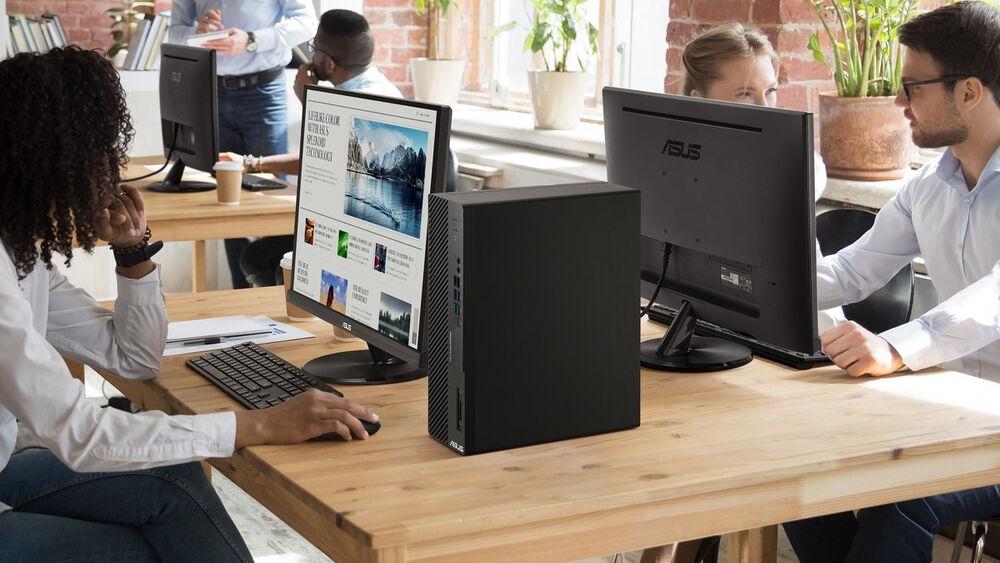 Maximum Support, Minimum Effort
The ASUS Service Package offers a wider range of solutions that go beyond the standard warranty to meet the needs of business-critical IT environments. The extended offerings protect both the hardware and your business, giving you the freedom to customize a service solution that best meets your needs.
Committed to creating a sustainable future, ExpertCenter PCs adopt stringent environmental requirements at all stages of the product lifecycle and optimize energy use to lower your operating cost in the long term.
Microsoft simplified the design and user experience with Windows 11. It has a modern, clean design with a new Start Menu position. Snap Layouts, Groups, and Desktops allow you to multitask with ease. Microsoft has also integrated some of their apps, such as Microsoft Teams. The redesigned Microsoft Store makes it easier to look for supported apps. The Pro version of Windows 11 includes all the features that Windows 11 Home offers plus many designed specifically for business users, including Hyper-V virtualization, BitLocker disk encryption, and remote desktop access.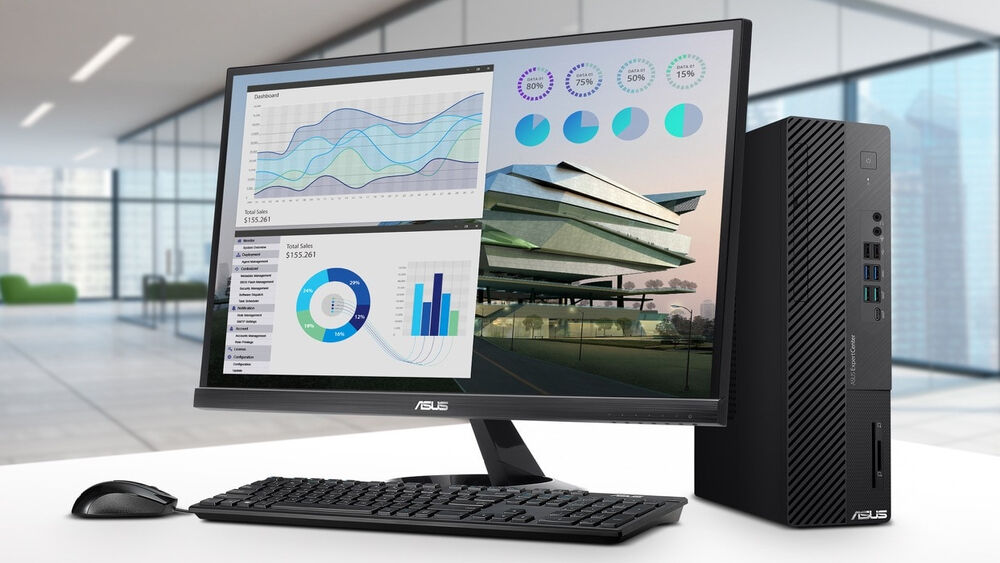 Read more
Model
Asus D700SC-7107000110
Form Factor
SFF
CPU
Intel I7-10700
Graphics
Onboard VGA
Memory
16GB DDR4 UDIMM
ODD
None
Storage
512GB PCIE G3 SSD
LAN
Gigabit ethernet/ Wi-Fi 6(802.11ax) (Dual band) 2*2 + Bluetooth® 5.3 Wireless Card
Power Supply
300W
Keyboard /mouse
Wired optical mouse (USB)
Wired keyboard (USB)(Arabic)
Keyboard Language
English/Arabic
OS
Without OS
Warranty
2 y carry in